Bridal Hair Style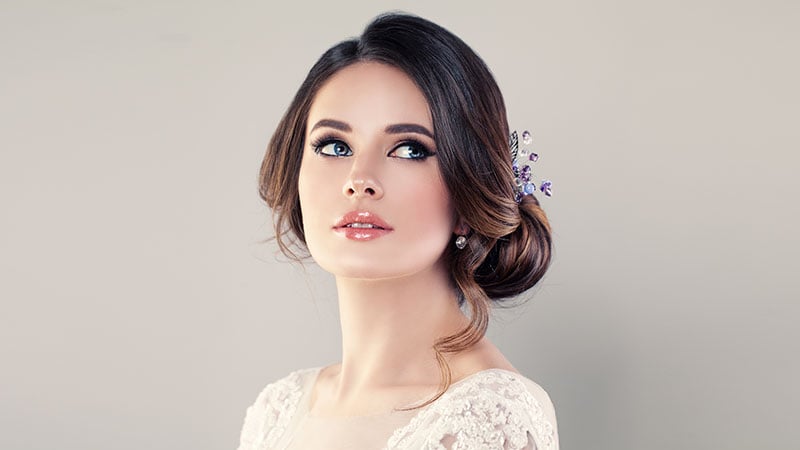 1. Updo
If you've always wanted the hair of a fairy-tale princess, the romantic updo is for you. These hairstyles are all about feminine details, like braids and flowers. However, they aren't too smooth or polished. Remember not to plait your hair too tightly and to leave some pieces out to soften the look and flatter your face. Tiny flowers like baby's breath suit the romantic updo because they are petite enough not to distract from the braided details. Pair the style with an equally romantic bridal gown.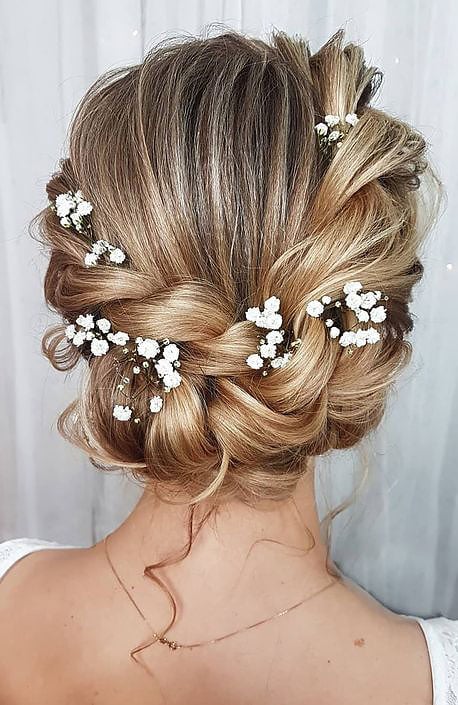 2. Chignon 
A classic formal hairstyle, the chignon was a massive trend in the '90s. So, it's no wonder it's coming back now! The chignon adds a sophisticated and polished finish to any look. It goes well with a silk slip-style wedding dress, so it's perfect for modern brides who have a minimalist aesthetic.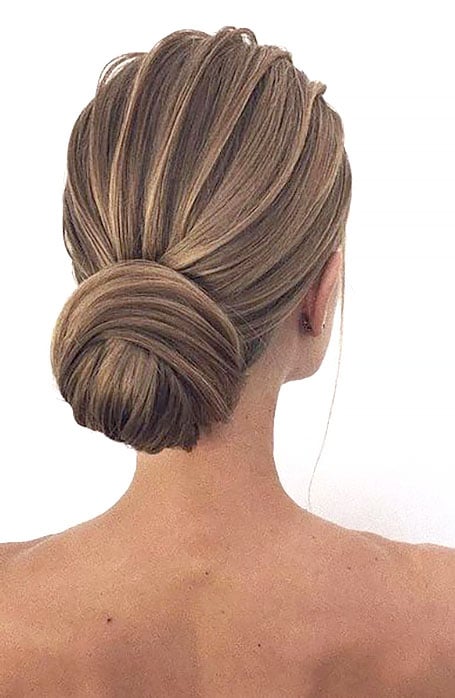 3. Long Braids
There are so many braided hairstyles out there; you're bound to find one you love. Better yet, some of them only require a brush and hair elastics to create. From Dutch and French to classic three-strand and pull-through braids, your options are endless. Most look best with thick hair, so be sure to clip in hair extensions and start taking hair vitamins to get your mane in perfect condition for your wedding day.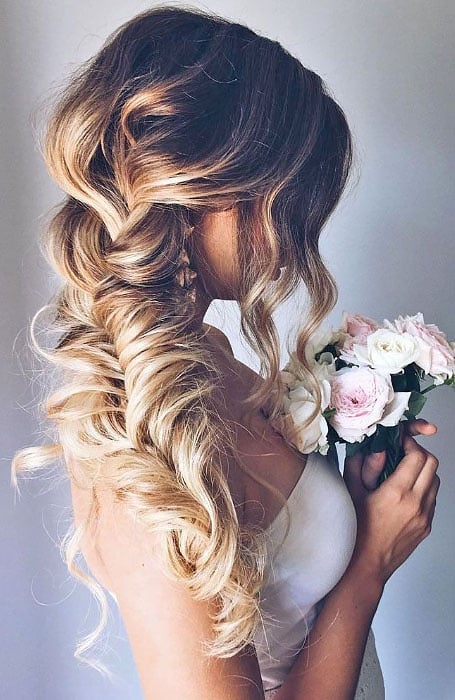 4. Half Braids
You can still show off a gorgeous bridal braid if you don't have ultra-long hair. Using just pieces from the top section of your hair, create two simple three-strand plaits starting from your temples. Braid it towards the back of your head, then secure them with a pretty floral clip. Leave the rest of your hair loose in soft waves; this will make it look thicker. The half braided hairstyle is also a great choice if you're a bridesmaid or wedding guest.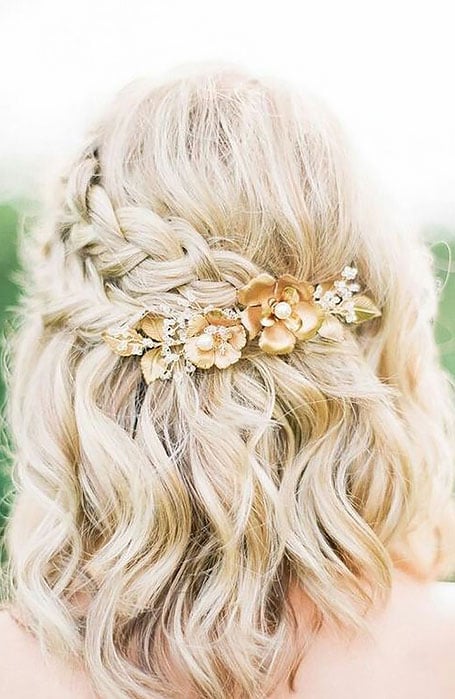 5. Ponytail
The ponytail is one of the most versatile hairstyles out there. Even on your wedding day, you can take this style to the next level by adding a few glamorous details. For an ultra-flattering look, be sure to create lots of volume at the crown of your head. Use hair extensions to give the ponytail extra thickness, and cover any hair elastics or pins by wrapping a piece of hair around it.  The bonus of a ponytail is that there's no hair to hide or distract from your make-up, and you can show off a pair of gorgeous statement earrings too.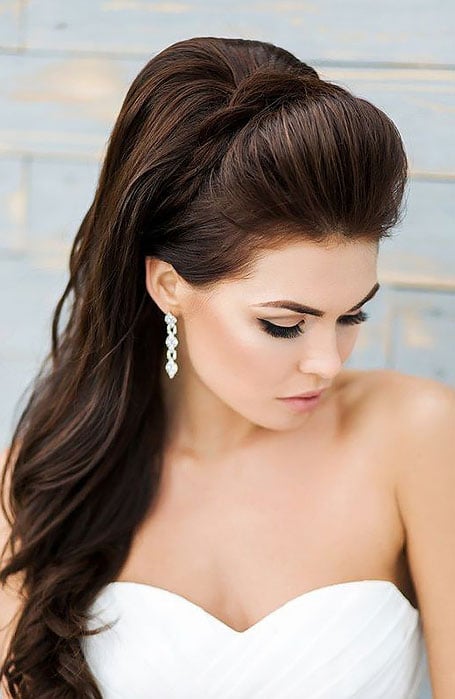 6. Side Braid
For the more bohemian brides, a side braid is a great wedding day hairstyle. It's feminine and stylish without being too fussy or 'done up.' Because this style looks best when worn in a loose and relaxed way, you'll never have to worry about fixing your hair on your wedding day! A side braid is an effortless, romantic style that gets better the longer you wear it. It also won't fall victim to sudden weather changes, like wind or humidity.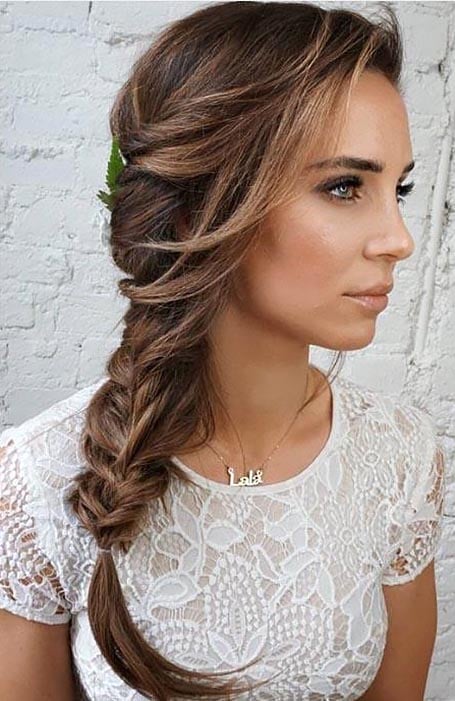 7. Loose Waves
Loose waves are the ideal hairstyle for brides planning a beach wedding. They also suit those with naturally long and thick hair with a wavy texture. To make the most of the style, dust your roots with volumizing powder and use a finishing spray to prevent your waves from getting fluffy. Loose waves also look beautiful when paired with hair accessories like clips, flowers, and headbands.  Another popular choice is a half-up style with loose waves underneath.